For the second year in a row Hopax is among Taiwan's most sustainable and transparent companies according to the Taiwan Academy for Corporate Sustainability.
The 2018 Taiwan Corporate Sustainability Awards (TCSA) evaluated the corporate governance, social inclusion and environmental sustainability of hundreds of Taiwanese companies, as well as their compromise to United Nations' sustainable development goals.
A total of 435 judges placed Hopax among Taiwan's 50 most sustainable companies, reflecting its Corporate Social Responsibility (CSR) practices. These practices include being environmentally friendly (Hopax is ISO 14001 certified) and its long-term emphasis on occupational health and safety (OHSAS 18001 certified).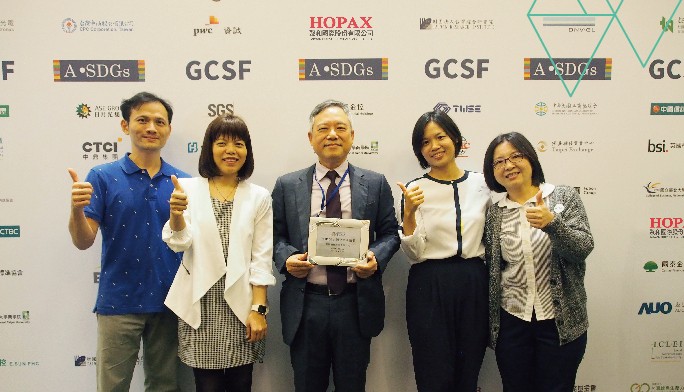 The Human Resources team of Hopax was present at the event to receive the awards
Additionally, Hopax has established several programs and events to support to local communities, people with disabilities and ethnic minorities in Taiwan, such as:
Community Service Day;
Financial support to Pingtung Christian Bethany Home (a rehabilitation and care facility for people with intellectual disabilities);
Financial support to the Bunun Aboriginal Tribe (one of Taiwan's 14 minority groups).

Hopax's Community Service Day




Pingtung Christian Bethany Home




Bunun Aboriginal Tribe members - Source: https://livingintaiwan.wordpress.com


According to Eugene Chien, chairman of this year's Awards, "each participating corporation demonstrated their best practices and exemplary efforts to transform their ideals into actions, with corporate leadership ensuring sustainability strategies that were integrated holistically into corporate operations principles and concepts".


TCSA's Eugene Chien speech
Besides being listed in the TOP 50 of sustainable companies in Taiwan, Hopax was also in the list of the most transparent companies in the manufacturing sector of Taiwan regarding its sustainability practices, which demonstrates its role as a reliable and responsible company.